Weight Watchers, the popular weight loss network of millions has been helping people lose weight since 1963. Weight Watchers now offers online memberships, making it easy for people all over the world to lose weight and keep it off. What Weight Watchers doesn't do is make it easy to opt out of your online membership.
According to this image of the Weight Watchers website, you should be able to cancel your membership by the simple click of a button. Unfortunately, this is not the case, specifically with Weight Watchers' three-month trial membership.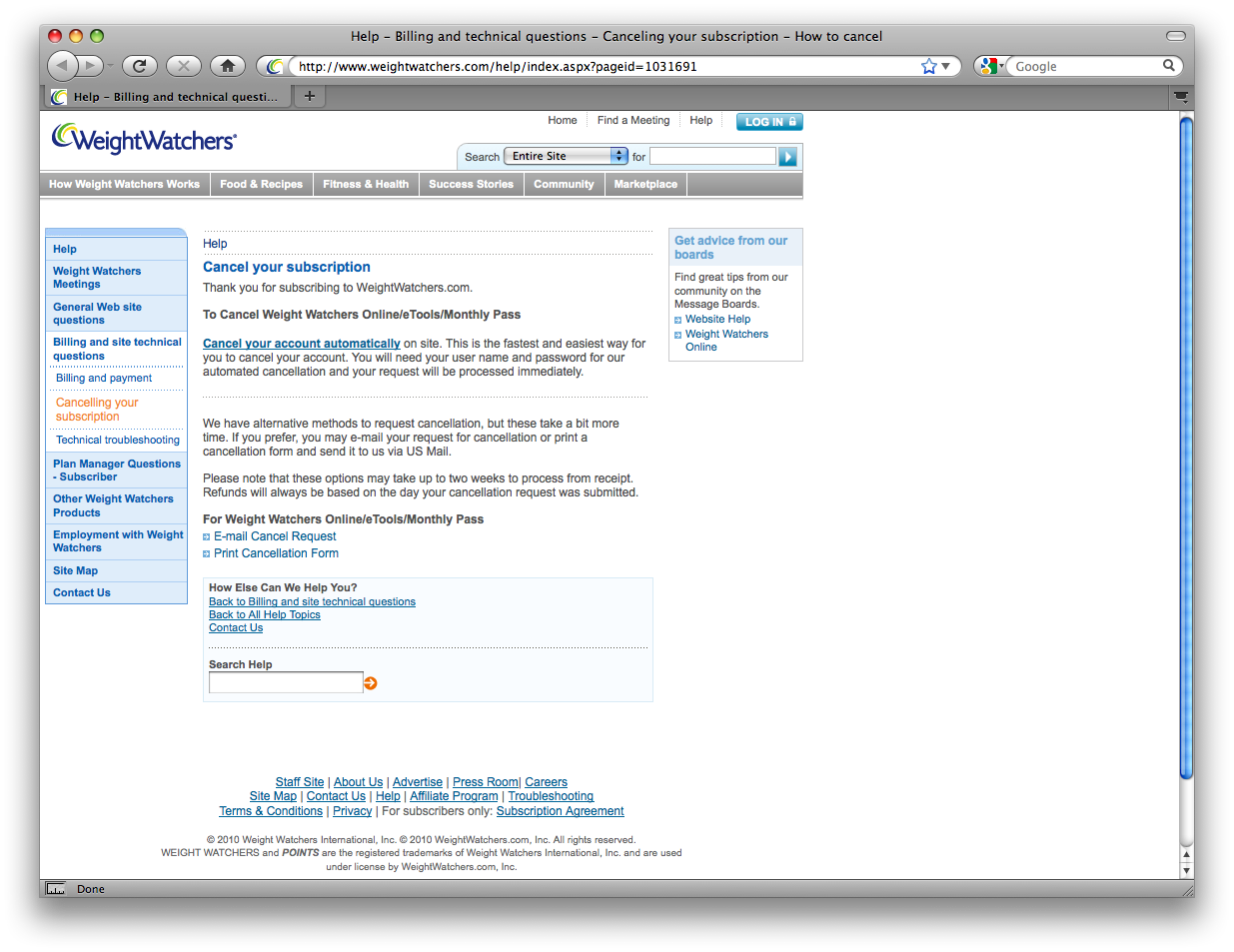 ComplaintsBoard.com is a popular website that allows consumers to post problems they have with large corporations and hopefully find answers, or justice. This Weight Watchers customer attempted to cancel their membership via telephone and was upset at finding out they can ONLY leave a message requesting a cancellation and wait for a Weight Watchers representative to call back. Scroll down and see countless other consumers complaining about the same issue regarding cancelling Weight Watchers memberships.
The image below was a post on the website Consumerist.com, which allows people to voice their experiences regarding large companies, and gain insight as to avoiding headaches regarding online memberships. As you can see, this consumer, and Weight Watchers customer had a frustrating time cancelling their Weight Watchers online membership.

Many complaints have been filed to the Better Business Bureau regarding Weight Watchers. In fact, 39 complaints have been filed regarding billing/collection issues, 5 complaints against Weight Watchers have been filed regarding contract disputes, and 69 COMPLAINTS were filed against Weight Watchers due to refund or exchange issues.
Based on this information, and our knowledge of cancelling Weight Watchers memberships, CancelWizard has rated this company as abusive. You should let us cancel your Weight Watchers membership for you.