There are many reasons why you need to cancel your phone service. Whether you're not happy with the mobile phone service you are receiving, or your finances can no longer warrant that extra bill from your mobile company, when you have to go, you have to go. Unfortunately, mobile phone companies usually require heavy-handed contracts that lock consumers in for a long period of time.
Trying to cancel your AT&T mobile phone service is no different. If you've called the customer service number at AT&T you've likely encountered the "AT&T Retention Team," whose primary purpose is to keep you as a customer. Their sales policies and avoidance tactics result in wasted time and excessive frustration. If you're cancelling your AT&T mobile phone service before your contract is finished, you're susceptible to exorbitant fees to the tune of $150 or more. This consumer unfortunately found that out the hard way, after trying to cancel their AT&T mobile cell phone service due to financial restraints.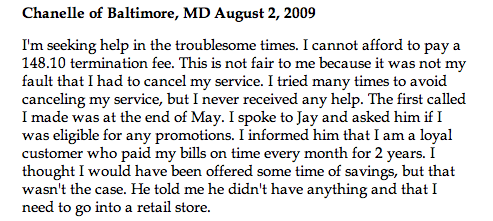 Occasionally, if your contract terms have been broken due to fee changes on the part of AT&T, you may be able to cancel your AT&T account without penalties. It's important to ensure your account is up to date, and that your balance is 0. If you're in good standing, and you want to cancel your AT&T account, CancelWizard can help.