Even massage parlors and specialists are asking for memberships, contracts and monthly fees. While a membership ensures business and may protect the business owner, contracts often leave the consumer high and dry, without the ability to cancel their account.
Massage Envy is a popular chain of massage parlors all over the United States. Massage Envy requires monthly memberships and fees to "unlock the true benefits of an ongoing massage therapy program." But, as you can see from this post, the results are anything but relaxing. After major surgery, this Massage Envy customer was harassed for their monthly payments!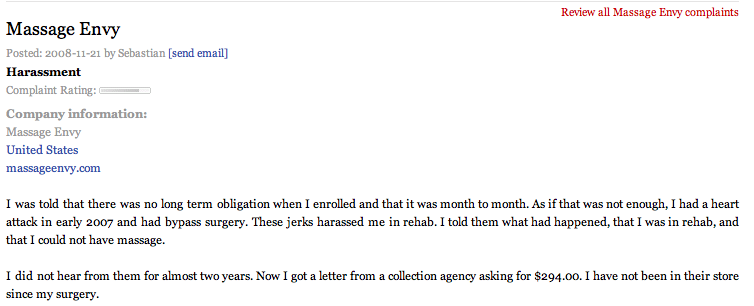 Yelp.com allows people to offer praise or critique of local businesses and national chains. According to this Massage Envy member in California, after they wanted to cancel their Massage Envy membership, they were not able to get a manager on the phone! It's safe to say if the customer wanted to upgrade their package, the story may have ended a little differently. 

Aggressive sales tactics and binding contracts negatively impact the consumer everyday. Take back control and let CancelWizard cancel your Massage Envy membership for you.