24-Hour Fitness, the popular gym chain is similar to LA Fitness in its membership cancellation policies. 24-Hour Fitness does not let the gym members cancel by phone, or in person. Rather, 24-Hour Fitness requires a letter sent by certified mail stating your account number, as well as your request to cancel.
This DisBoard shows a handful of people frustrated at the policies of 24-Hour Fitness as well as other gym franchises such as Bally's Total Fitness (link).  

In this article aptly named "24-Hour Fitness' Lame Cancellation Policy" consumer, Don Loper explains the process of cancelling your 24-Hour Fitness policy. Loper explains that you cannot call to cancel your membership, and attempting to do so will only waste time and cause you frustration. Furthermore, you cannot cancel your 24-Hour Fitness membership in person, as the gym franchise requires a 30-day notice grace period to cancel your fitness membership.
Gene of Clackamas, Oregon posts on ConsumerAffairs.com that you can cancel your debit/credit card to avoid the unwarranted charges to your account after you attempt to cancel your 24-Hour Fitness membership. Having to cancel bankcards that you use daily should not be a requirement to avoid fees that were erroneous to begin with!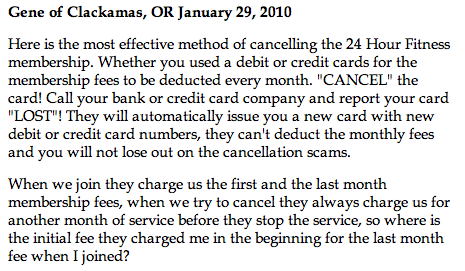 CancelWizard has rated 24-Hour Fitness and their unnecessary cancellation policies as abusive. This means that 24-Hour Fitness holds cancellation policies that are a hassle, and cause frustration, so let CancelWizard cancel your 24-Hour Fitness membership for you.