Snap Fitness is a gym franchise that surprisingly doesn't require lengthy contracts for members. Yet, their no contract policy may not be entirely truthful.
This Snap Fitness member says that Snap Fitness personnel explain that they will not charge you monthly, and that they don't require contracts. Yet, this customer discontinued using the gym only to be charged for use month after month. When this Snap Fitness customer attempted to use the gym again (because they were being charged anyway) their access was taken away!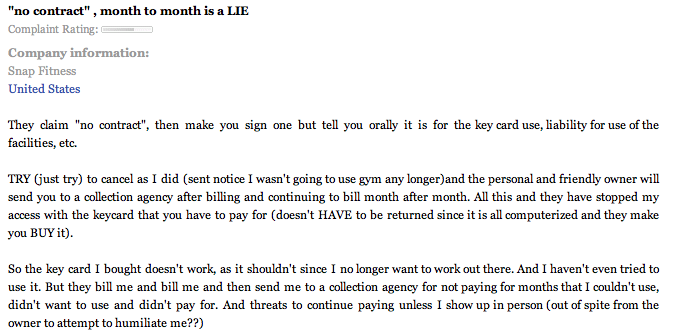 Upon cancelling your Snap Fitness membership, you must fill out a specific form, but don't expect the staff at Snap Fitness to tell you that. As this "Pissed Consumer" states, the staff at Snap Fitness will NOT explain the proper cancellation policies until they have taken money out of your back account.

Members wishing to cancel Snap Fitness accounts must fill out the proper paperwork by way of Snap Fitness' "cancellation form." Yet, as you can see from this post on RipOffReport.com, getting this form is a tedious task.
If you need to cancel your Snap Fitness membership, but don't know how to get a cancellation form, and don't have time to waste dealing with customer service representatives, CancelWizard can help.