ClickBank lets people buy and sell their digital goods, such as eBooks, digital music, informational videos and more. Because using ClickBank requires a subscription to many "recurring products" (i.e. podcasts, newsletters), there are a few difficulties when trying to cancel your ClickBank account. According to the ClickBank website, cancellations for recurring products may be processed at any time. 

However, this online post suggests the cancellation process of ClickBank may not be as convenient as one thinks. This post on Tipz.com explains that canceling a recurring ClickBank subscription requires a Product Inquiry form, and that the process is not always seamless.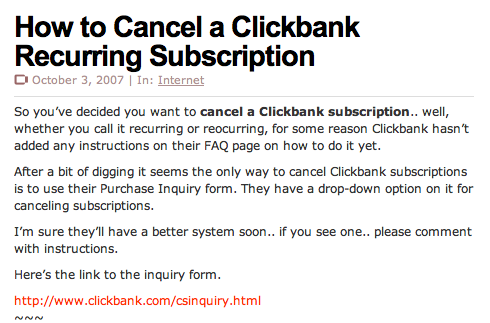 CancelWizard has given the cancellation policies of ClickBank a "difficulty" rating due to the obscure nature of their recurring product cancellations. If you've filled out a product inquiry form, and have still not successfully cancelled your ClickBank subscription, let CancelWizard do it for you.