Type "Intelius" into your Google search bar and the Number 2 search for the company is "Intelius Scam." This red flag should tell consumers that this personal record and background check company is notorious for taking advantage of its customers.
In this eye opening news article from Seattle Weekly a customer uses Intelius to find the owner of a lost dog he found. Intelius was helpful in finding the owner of the dog, but the customer noticed mysterious charges on his credit card statement from third party companies. Intelius continued to charge him monthly for a service he wasn't aware he signed up for.
This image shows two consumers who were unlucky enough to have used Intelius' services. Both parties incurred unnecessary fees and experienced frustration as they tried to cancel their accounts. It seems it is difficult enough to speak to a live person on the telephone, let alone have them understand you want to cancel your Intelius account with a refund on your prorated services.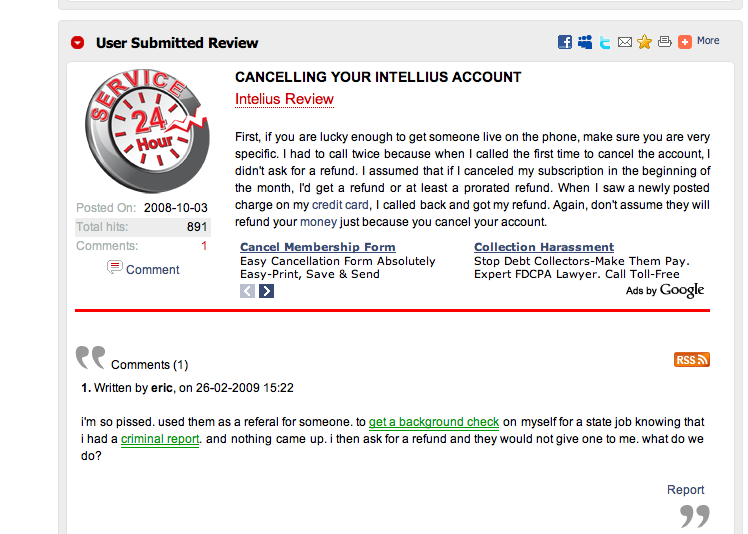 The message boards on ComplaintsBoard.com are peppered with angry consumers who explain that not only is Intelius notorious for their refusal to cancel your account, but they are known for scamming innocent customers who do not realize they have signed up for monthly accounts. This ComplaintsBoard.com post about Intellius is merely one example of the company's immoral business practices.
If you've had the unfortunate experience of being an Intelius customer, you should know that CancelWizard has rated this company as abusive. You should let us cancel your Intelius membership for you.