LocalNet provides Internet service to millions of Americans each year. LocalNet boasts a "No Contracts, No Credit Card" Internet service but what they don't do, is make it easy to cancel your LocalNet account without incurring unnecessary and enduring bully tactics.
In this shocking post from Complaints.com, an enraged customer attempts to cancel their LocalNet account. You can read the string of events as the customer mails several letters requesting cancellation, and incurs monthly fees regardless of their pleas.
In this image you can see a post on MeasuredUp.com in which another unhappy LocalNet customer attempts to cancel their account only to suffer from frustration and more monthly fees. Click on the link above and scroll through the countless comments of other innocent customers being taken advantage of by LocalNet.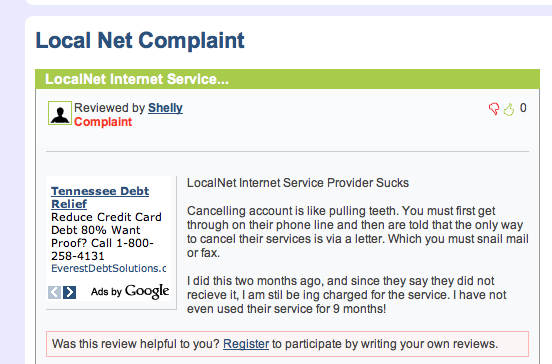 According to this ComplaintsBoard.com post, LocalNet uses scare tactics to try and get more money from you. This poor LocalNet customer tried to cancel their account and was threatened with a lawsuit for pending fees AFTER they attempted to cancel their LocalNet account.
LocalNet is NOT a Better Business Bureau accredited business and they have a laundry list of offices all over the country, with an even longer list of complaints filed against them.
Based on this information and our extensive knowledge of LocalNet and their history of taking advantage of customers, we have rated this company as abusive. You should let us cancel your LocalNet account for you.